EE revamps pay monthly plans and Smart Benefits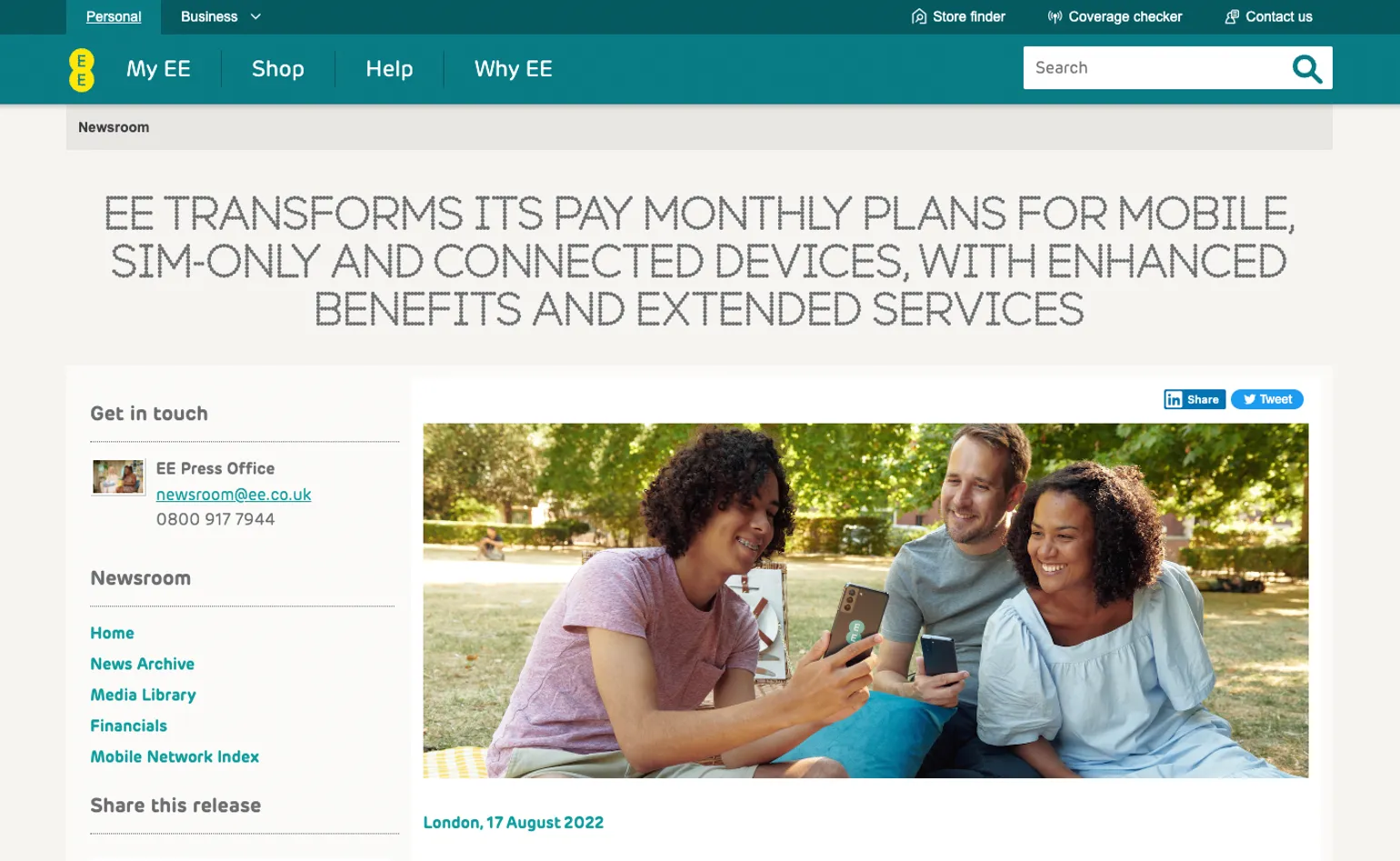 EE, the largest network in the UK, has overhauled its plans, with a range of fresh offerings for new customers, and 2 new Smart Benefits.
EE has introduced 3 new tariffs, including the Essentials plan, All Round plan and Full Works plan.
The new plans will be available for phones, SIM only deals and connected devices, such as laptops and tablets.
Benefits include WiFi Coverage Boost, Stay Connected Data, Data Gifting and Device Care Extras.
Following EE's acquisition by BT, WiFi Coverage Boost will bring BT's famous Wi-Fi hotspots to EE customers, with over 150,000 locations across the UK, including on the London Underground. EE customers who sign up to one of the new plans will be able to connect to any of the 150,000 hotspots for free, without consuming their regular data allowances.
With Stay Connected Data, EE customers who use all their data for the month will still be connected, albeit at a 0.5Mbps speed limit. This cap isn't ideal for streaming video, however it's more than enough for basic web browsing and messaging with apps such as WhatsApp and Facebook Messenger.
Data gifting allows all plans on the same account to gift data between any plan. Data can only be gifted by the person who runs the account. The account holder will be able to gift to and from any person or plan.
Device Care Extras is available for smartphones and connected devices such as laptops. As the name suggests, it's designed for after purchase care and repairability services, such as Annual Device Check-Up for tablets.
Essentials plan
The new entry-level Essentials plan will be available from 17 August 2022, for SIM only, phones and connected devices. They will be the cheapest plans offered by EE.
As the cheapest plans offered by EE, they will have a 100Mbps speed limit. However, this is the approximate average speed you can expect from 5G with EE, so it shouldn't be noticeable in most situations.
Essentials plans range from 1GB to unlimited data. They also include 6 month trials for Apple Music, Apple TV+, Apple Arcade and Apple News+, which is worth around £170.
All Rounder plan
Unlike the Essentials plan, the All Round plan doesn't have a speed limit, for full 5G speeds up to 1Gbps. They don't include any free trials for Apple services, however they do come with a single Smart Benefit, which is worth £15 per month.
Full Works Plan with Apple One
From 31 August, any iPhone purchased with a Full Works Plan, such as the Apple iPhone 15, will include a subscription to Apple One, which includes Apple Music, Apple TV+, Apple Arcade and iCloud+ with 50GB storage.
Although you do get a Smart Benefit, it's restricted to the Roam Abroad Pass, which allows you to use your allowance in the EU and 5 other countries, including Australia, Canada, Mexico, New Zealand and USA.
Similar to the All Round plan, there aren't any speed limits.
Full Works Plan for Android
Full Works Plan for Android includes 3 Smart Benefits and no speed restrictions. You don't get an Apple One subscription, however you can use one of your Smart Benefits towards Apple Music.
New Smart Benefits

EE has introduced 2 new Smart Benefits, including Xbox Game Pass Ultimate and Microsoft 365 Personal.
Worth £10.99 per month, Xbox Game Pass Ultimate includes over 100 high-quality games, Xbox Cloud Gaming and all the benefits from Xbox Live Gold.
Microsoft 365 Personal is worth £5.99 per month, and includes a range of Office apps including Word, Excel, and PowerPoint. You also get OneDrive with 1TB storage.
As well as the 2 new Smart Benefits, there will also be 5 existing Smart Benefits to choose from:
Apple Music
BT Sport
Entertainment Data Pass
Netflix
Roam Abroad Pass