A typical Briton needs to spend 2.99% of their yearly salary to afford the latest iPhone 14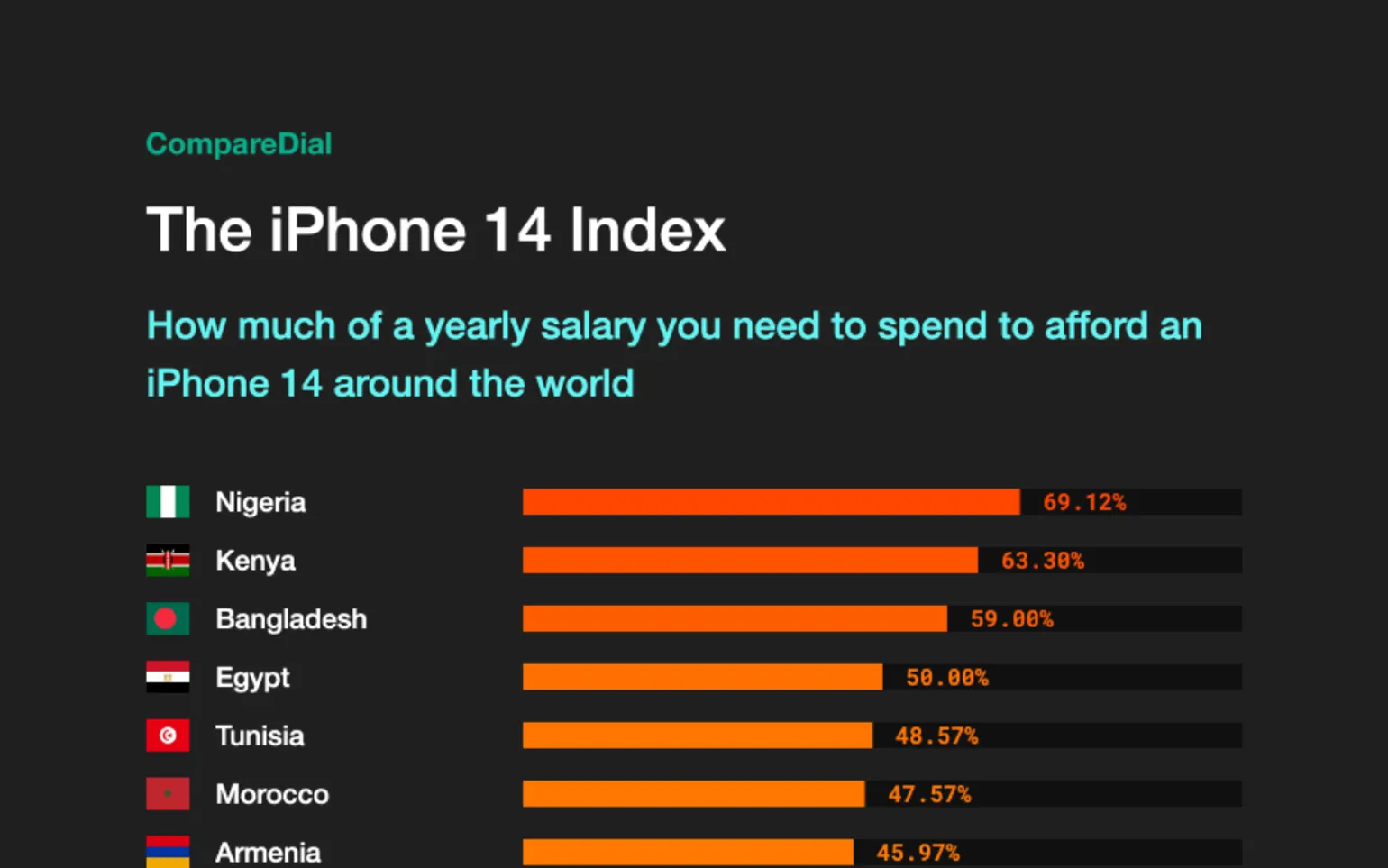 London, 15 September 2022
Based on the median salary, a British citizen needs to spend 2.99% of their yearly salary, or 35.92% of their monthly salary to purchase the new iPhone 14
This is approximately 62.26 hours of work, or 7.78 days of work
The UK is the 18th most affordable country in the world to purchase an iPhone 14, and the 15th least expensive
CompareDial can reveal a typical Brit needs to spend 2.99% of their yearly salary, or 35.92% of their monthly salary to purchase the base model iPhone 14 128GB. This is approximately 62.26 hours of work, or 7.78 days of work.
The discovery comes after analysing median salaries and iPhone 14 price data from 76 countries across the world.
The UK ranks in 18th place for affordability, just behind Canada in 17th place (2.97% of a yearly salary), and in front of Iceland in 19th place (3.04% of a yearly salary). Within Europe, the UK ranks in 11th place for affordability.
In terms of price, the UK is the 15th least expensive country for an iPhone 14, with the base model starting from £849. This is an 8.99% increase from the iPhone 13, which launched for £779 in September 2021.
Adrian Vincent, the founder and CEO of CompareDial, said: "Given the current cost of living crisis, it may not seem like it, but the UK remains one of the most affordable countries in the world to purchase an iPhone 14. However, spending 2.99% of a typical yearly salary is still a significant amount, meaning Apple's latest device remains a luxury item for most people."
The least affordable country in the world is Nigeria, with a citizen from the West African country needing to spend a whopping 69.12% of their yearly salary to get their hands on the latest Apple device.
As for the most affordable, Luxembourg takes the crown, with a typical citizen needing to spend just 1.61% of their yearly salary. Switzerland follows closely behind at 1.67%.
Source
Interactive version with comprehensive data available at https://www.comparedial.com/iphone-14-index
Disclaimer
Based on £28,210.44 yearly median salary for 2022 in the UK
iPhone 14 price data correct as of September 2022. Includes VAT / combined taxes in respective countries
Interactive version with further data: https://www.comparedial.com/iphone-14-index
About CompareDial
CompareDial is an Ofcom approved comparison website for mobile phone and SIM only deals.
Launched in 2020, CompareDial has gone on to become one of the biggest comparison websites for all things mobile related, including various guides and tips on saving money, from avoiding roaming charges after Brexit, to getting the cheapest upgrade deals by haggling with your network.
In early 2022, CompareDial became only 1 of 6 mobile phone comparison websites to be approved by Ofcom, after a vigorous operational and technical audit, to ensure results are accurate, transparent, comprehensive and unbiased at all times.